It has been a good while since we last shared what we are putting in place for you here at Mr Flyer.
We have been pretty busy adding many new pages to our website; within these pages are new/improved services. In addition, we are in the process of launching a brand new service and also developing bespoke campaign tracking software.
New Website Pages
1. Graphic Design
Of late, more and more clients have been asking us to design much more than simply leaflets. We have helped clients create new brand identities, product design, stationery design and much more. Therefore, we have created a unique graphic design page, which explores and shares:
The true cost of design
Fundamentals of creating an effective brand
The do's and don'ts of actionable flyer design
How to implement graphic design specifically for marketing.
2. Printing
We print so much more than just flyers! We can now provide a complete print management service thanks to our merger with The Personal Print Portal in July 2021. And this is so much more than standard print management - we provide you with your own branded print portal, which enables you to order all your printed items from one place, with all your products ready to purchase in a couple of simple clicks. Beyond the print portal, we also:
Establish if print is just a commodity
Do a head-to-head with digital print vs litho print
Share how to use print for marketing
Explore our environmentally friendly print solutions.
3. Direct Mail
Our direct mail service has gone from strength to strength thanks to our merger with Flow Fulfilment just before lockdown. Titled 'the ultimate direct mail page', here's what you can expect from the page:
We explain how direct mail works
We reveal the response rates
We compare it to leaflet distribution
We share the top-performing sectors
We discuss the GDPR implications
We cover the six key considerations for implementing direct mail
We share the essential direct mail strategy
We go through the process and explain how to implement your direct mail campaign
4. Flyer Distribution
As our founding service, we have created an avalanche of content on flyer distribution over the years! The purpose of this page is to condense 11 years of knowledge and experience into one easy to digest page so that you can see the highest possible return from your door drop campaigns with us. We cover many of the elements listed for direct mail, but in context for leaflet drops.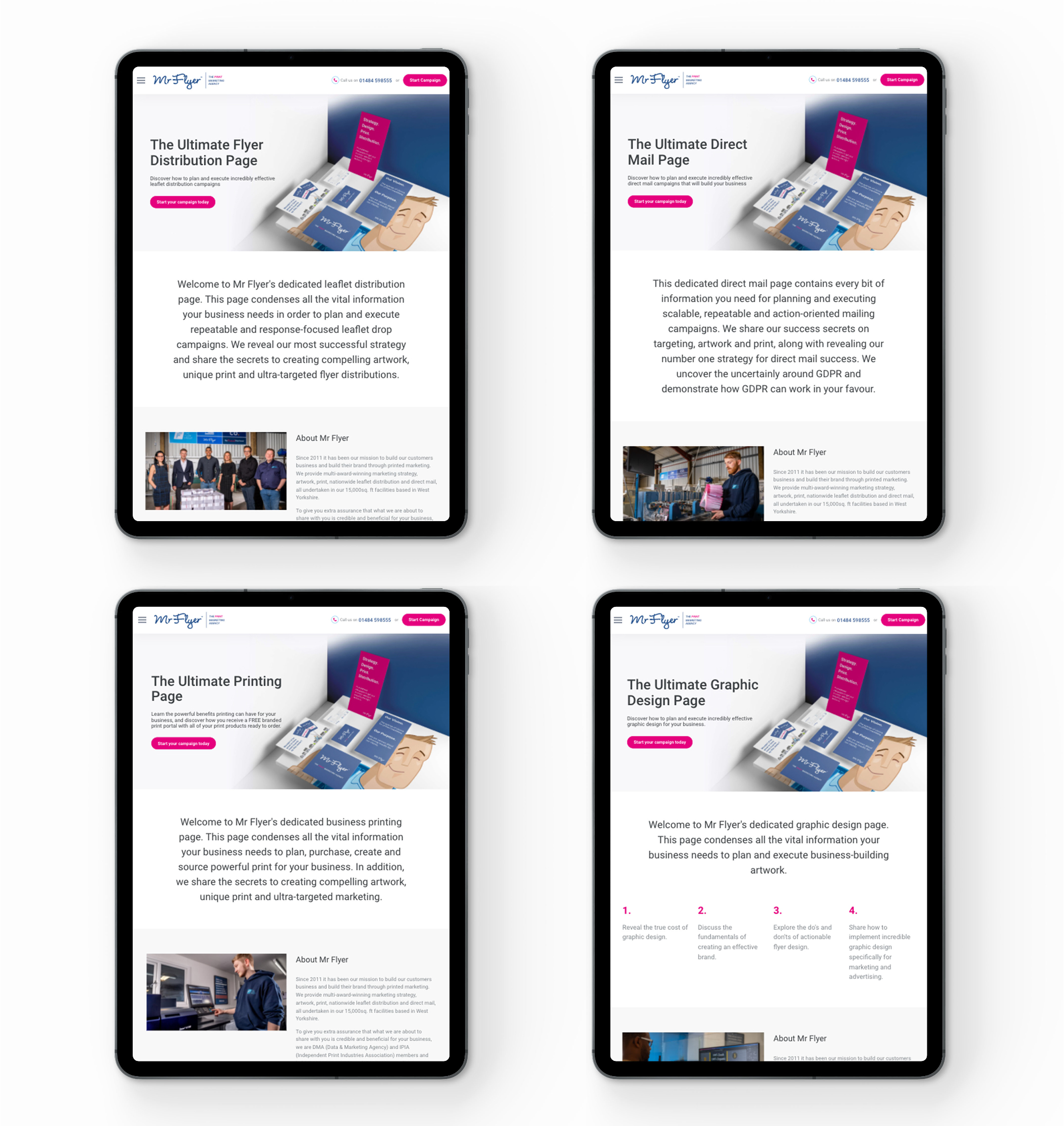 5. Sector Pages
Our sector pages are continually seeing growth in organic traffic, so clearly, they were helping many businesses. Therefore, we updated them with new content and more user-friendly designs. Further, we have added a brand new sector due to the surge in enquiries. Our sector pages now include:

6. Case Studies
I don't know about you, but I love to see how other businesses have benefited from a company I'm considering doing business with. So many leads and clients have been asking the same question, so we have created a case studies page. From retail giants Next through to a local podiatrist to a national car dealership. We have shared various case studies that delve into the success strategies we implemented and their outcomes.

7. About Us
So much has changed over the last couple of years, namely the merger to become part of The Flow Group. So many of you won't have met nor seen our entire team of over 25 employees, nor seen our new home, nor be aware of our shared core values, purpose and brand promise. The latest about us page shares all of the above, along with highlighting all our ISOs and other industry credentials - all to give you even more assurance you will continue to receive award-winning service from us.
We invite you to explore the new pages we have added for your benefit. Please get in touch with our Sales Team and see how we can help you build your business and your brand.

Exciting Releases Planned For 2022
Whilst the updated website formed a part of our plans for 2022, it by no means completes it! Here's a sneak peek of what's to come:
A brand new service soon to be launched, which gives you complete control of small scale direct mail jobs - anything from 1 to 1,000 daily quantity.
A bespoke conversion tracker software launch that will show you the exact number of people who have purchased as a direct result of your flyer distribution and direct mail campaigns.
Complimentary services that will help you enhance and track conversions of your marketing.
New content giving industry-specific advice, unique door to door and direct mail marketing strategies, and much more business building content.
Get in Touch
As you can see, we are working hard to serve you even better. So, if you haven't spoken with us in a while and have some marketing in mind, please get in touch today.