No matter how good the quality of paper you print on, how frequently you deliver, or the precise targeting we carry out for you...if your design is terrible, none of this will benefit you!
Back in 2019, we first created this blog. Now (in 2021), we are updating it, expanding it, and adding new elements, which further increase the effectiveness of your artwork and ultimately the growth of your business.
Leaflet Design for Door Drops
When you design your leaflet, flyer, booklet, brochure or any other printed item for a door drop campaign, there are fundamental principles that, when adhered to, significantly increase your response rate. This blog will detail these for you and provide a case study to help illustrate the graphic design principles. By following our tried and tested system, you will catch the receiver's attention and give them an instant reason to respond to your business.
Flyer Artwork Case Study
The Design Brief
Our client, Chadwick Lawrence Solicitors, requested a design, print and door to door distribution campaign. The target audience was tenants in housing association, council or private properties where landlords were potentially not maintaining the houses sufficiently. They wanted to help these tenants to successfully claim for necessary repairs. The flyer was intended to encourage residents attendance at their housing repair free clinics.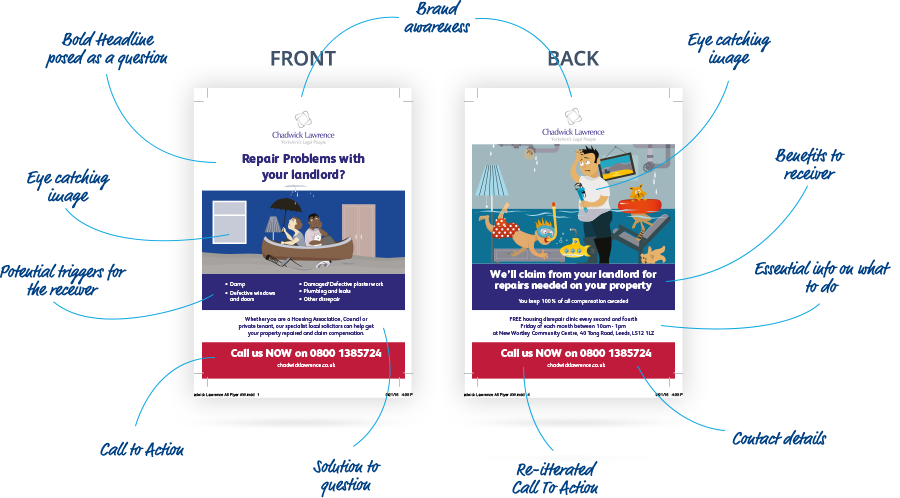 Our Design Solution
We cover our three keys in every flyer design, which have proved time and again essential for strong returns:
Bold headline
Eye-catching image
Call to action.
In this design, you see the bold headline is in the form of a question that relates to the target audience. Below we then position Chadwick Lawrence as the solution (this can also feature as a sub-headline). The call to action capitalises the action word 'now' as we want people to respond promptly. A call to action may often include a discount or gift, but it wasn't appropriate for this design. The back of the flyer then reiterates the front and, using additional info, further encourages the receiver to respond.
What Should You Be Designing
A flyer, right? Yes, but there are many variants and so many ways to capitalise on unique print to further stand out from your competition. Linked with the design is the print format. Here are some inspirational printing ideas for you:
As most letters and flyers are A5, a DL (1/3 A4, like a compliment slip) or a large square flyer (210mm x 210mm) stand out as they protrude beyond A5 size when posted/delivered.
Folded leaflets, be it a half fold, tri-fold, Z fold or a uniquely folded item, these all add intrigue - open up to discover more. They can also allow for more info.
Enclose your printed item in an envelope; you can address it, 'Dear Neighbour' or 'Dear Chocolate Lover', depending on your business. However you address the receiver, it will intrigue them to see what's inside and pay more attention.
You can achieve more design features by adding special finishes to your print, such as lamination and spot-UV, and take this further by adding rounded edges.
An estate agent may wish to stand out with a flyer the shape of a house. Consider shapes appropriate to your business - we can create die-cuts for bespoke designs.
We offer one of the UK's largest selection of printing products, which will help you stand out from your competitors. Alongside a design consultation, make sure to ask all about our print options too.
Graphic Design Considerations
1. Use design experts
At Mr Flyer, our in-house graphic design team are different because we specialise. We stick to what we know, and that is designing printed marketing material to build businesses. Why? We understand what works, what key elements should be included, and most importantly, what actually converts potential consumers. Time and again, clients come to us with their artwork for us to print and distribute; we look at it and instantly know whether or not the campaign will be successful. If you want to be sure that your next flyer distribution or direct mail campaign will have the best opportunity for success, then please allow us to create the artwork for you!
2. Is Graphic Design Costly?
Quite a few clients prefer to go cheap with their design and focus on quantity over quality. However, professional and effective artwork design by Mr Flyer costs from just £125 (+ vat). For a 20k distribution campaign, the price for print and delivery may be around £2,300 (+ vat); therefore, it's hazardous to use amateur artwork for this kind of investment. The safest move is to invest in actionable artwork created by experts.
3. Does design really make a difference?
Yes! A home improvement franchise in Huddersfield carried out a successful design, print and distribution campaign with us and kindly recommended us to their franchise partner in York. However, the York franchisee already had flyers, which he insisted we distribute despite our reservations on the design and print quality (on just 130gsm for a premium service). As expected, the York franchisee achieved a much lower ROI compared with Huddersfield's, despite having a more appropriate region to distribute. This is one of many examples where this has been the case.
Great Artwork Implementation
Please speak with us as early on in the marketing process as possible to implement great artwork for your forthcoming leaflet drop campaign. If you have a brand guidelines document, please make sure to provide that too. If you don't yet have one but would like to know the benefits (namely brand consistency, professionalism and speed to produce new artwork), please ask, and we can produce one for you. Our mission is to make life simpler, faster and cheaper for our customers and advise and educate them on the most successful strategies for business growth. Great artwork is fundamental to this mission!
To get your campaign going with great artwork as its foundation, please do get in touch with us today on 01484 598555 or emailing [email protected]