The Ultimate Printing Page
Learn the powerful benefits printing can have for your business, and discover how you receive a FREE branded print portal with all of your print products ready to order.
Start your campaign today
Welcome to Mr Flyer's dedicated business printing page. This page condenses all the vital information your business needs to plan, purchase, create and source powerful print for your business. In addition, we share the secrets to creating compelling artwork, unique print and ultra-targeted marketing.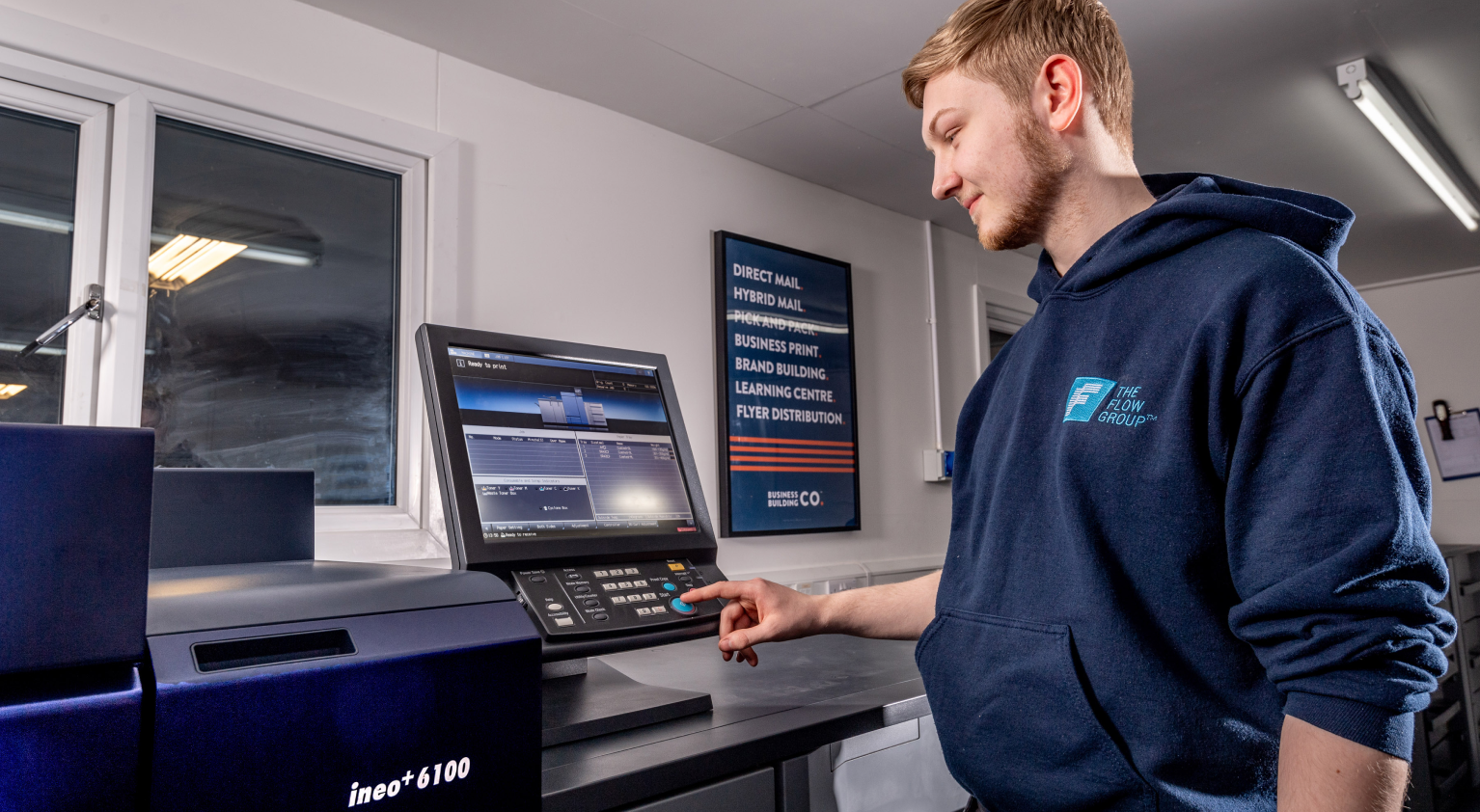 About Mr Flyer
Since 2011 it has been our mission to build our customers business and build their brand through printed marketing. We provide multi-award-winning marketing strategy, artwork, print, nationwide leaflet distribution and direct mail, all undertaken in our 15,000sq. ft facilities based in West Yorkshire.
To give you extra assurance that what we are about to share with you is credible and beneficial for your business, we are DMA (Data & Marketing Agency) and IPIA (Independent Print Industries Association) members and hold ISO9001, ISO14001 and ISO27001 accreditations.
You may consider print as a commodity. If so, searching the internet for a slightly lower flyer price may appear a good use of your time. We don't treat print as a commodity. Instead, we treat it as a vital part of your business' marketing communication. The quality of your printed items will portray the quality of your business in the eyes of your customers. For example, suppose you have ever attended a BNI or other networking meeting. In that case, you will notice people judging others based on their business card's finish, weight, and artwork! How do you want your business to be remembered? Print doesn't have to be expensive, but it does have to be appropriate.
The Perfect Print Solution
Imagine you no longer needed to spend hours searching the internet for the 'cheapest' price. Imagine you could buy your business cards from the same place as your banners, umbrellas, uniforms, and gazeboes. Imagine all these items were of excellent quality, great price, and available on a personalised portal where you can reorder items in a couple of clicks. We have this perfect print solution - we call it, The Personal Print Portal.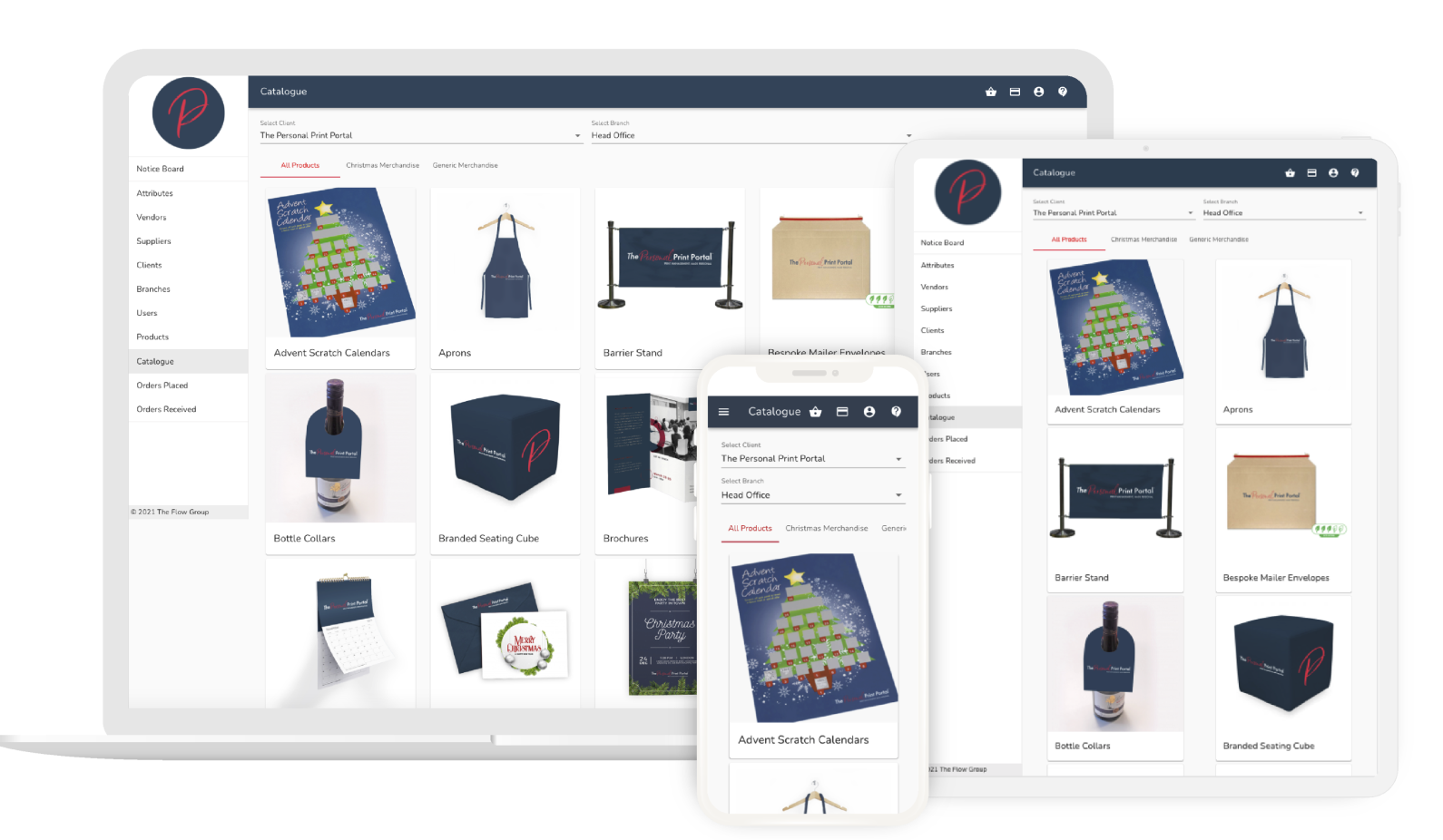 The Personal Print Portal
In July 2021, we acquired The Personal Print Portal, which now forms part of our group (The Flow Group). The Personal Print Portal (or TPPP for short) is a print management company custom-built as a SAAS platform (software as a service). It enables you to order all your printed items from one place, with all your products ready to order in a couple of simple clicks. Whether you want business cards or banners, uniforms or umbrellas, whatever the product - the print portal provides it!
We provide you with a printing portal branded for your business, with all your products ready to order. As a result, printing for your business is now simpler, faster and cheaper than ever before.
No longer do you need to stress searching several different print products from a vast array of websites, nor spend hours comparing prices or worry about which are the most beneficial print products for your business. At Mr Flyer, we do all this for you and place all these products in your own branded business portal.
1. Request a portal
Request your business print portal and then send a list of print products you currently/would like to buy
2. Artwork creation/submission
Either send us through your existing artwork, or our in-house design team can create artwork for you
3. We create your portal for you
We create your business print portal and import all your print-ready products
4. You're ready to go
Your fully functional branded Portal with all your products in place ready to order can often be complete the same day!
Ready to get started?
To get your campaign going with great print, please contact us today.
Get Started
The Benefits of a Personal Print Portal
Using The Personal Print Portal makes all your print purchasing faster, simpler and personal. With our multiple accounts option, you can also provide access to many people in your company with the ability to oversee their purchases. If you have a franchise or are a franchisor, this becomes especially powerful. In addition, our in-house graphic design team will provide full artwork for you with all the products on the Portal. Your Portal is customised to your company colours. It features your logo, along with all your print-ready artwork for each product.

Your personal Portal
A Personalised and Branded Print Portal Ordering Platform, with your products ready to order

Full listing of all your print products
Keep track of all your print orders in one easy, simple to view portal

Edit the text of your print products
Need a new business card for a new member of staff? No problem, just type and go

See previous orders
Keep track of all your previous print purchases including the date, item, quantity and price

Easy payment options
Simple GoCardless payments for instant purchases, along with monthly direct debit credit option (subject to conditions)

Reorder previous print runs
A bit short on leaflets? Just hit reorder and we'll get those out to you in a jiffy

Multiple user accounts
Need different departments to be able to order print? We'll give you unlimited user accounts

Price match promise
We promise to do our very best to price match all your current print products
More Print Considerations...
Litho VS Digital
There is often great confusion about the difference between litho and digital print, and more relevantly, which is better for your business. This section describes the differences and the pro's and con's of each.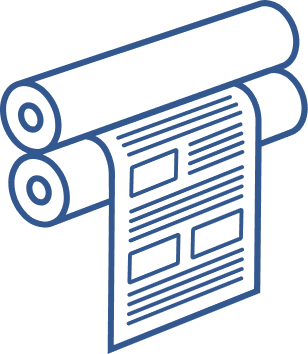 Litho Print
Litho print is printed on a lithographic printer. The artwork is burned onto a metal plate with a laser and then placed on a printing press. The result is that when transferred to the paper, the flyer is very smooth.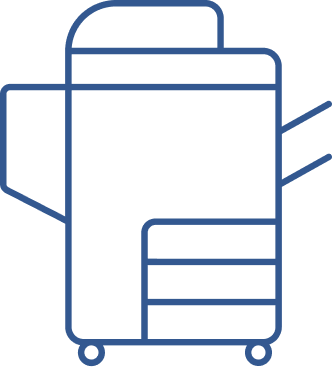 Digital Print
Digital printing is a much newer approach to print and has no plates to send through a press or any other time-consuming and costly setup processes. However, this is by no means a home printer! When you feel a digitally printed item, the ink is slightly raised; this is because the ink lays on top of the surface.
| | Pros | Cons |
| --- | --- | --- |
| Litho | Litho print is much more economical on larger print runs, typically usually anything 1,000 upwards. The more you print, the more economies of scale benefit you. Furthermore, the quality is often higher than digital, with greater consistency of colour. So if you are looking for a flyer distribution campaign, litho print is most appropriate. | Litho print has significant setup and drying time, with the typical turnaround resulting at one week. Also, at small print runs, it can be expensive. |
| Digital | Digital print is perfect for quick turnarounds and small quantities - typically below 1,000. If you urgently require a few hundred flyers, digital print is your best option. Also, digital print can fulfil print where you need personalised print on each item, such as a code for a raffle ticket. Direct mail campaigns often run on a digital press, especially when lots of personalisation is required. | The quality tends to be lower than litho, though it is continually catching up. At anything over 2,000 flyers, the price becomes very expensive, much more so than litho. |
Print Marketing
Print forms an essential and often forgotten element in the effective marketing of your business. Here are some ideas to help your business make the most from print:
1. Business cards are your brand in your hand. They are necessary when attending any networking events and when meeting new prospects - they must represent you well.
2. Marketing tools. To stand out, opt for a unique shape such as a flyer in the shape of a house or with rounded edges. Consider usage - if handing out to prospects, informational and inspirational flyers are effective. If you're distributing en masse, make sure it's actionable; if you use direct mail, make sure it's personal and relevant to the receiver.
3. Stationery. Maintain brand consistency with everything prospects and customers receive. Make use of your letterheads and compliment slips by sending thank you letters and/or send a gift with a handwritten compliment slip enclosed. Follow up is key in any business, and your branded stationery plays a crucial role.
4. Signage. If you have premises or a company vehicle, then these can create free advertising space. Again, remember the signage you choose represents your business, so go for quality over quantity. One well-designed sign will have more impact than an array of poorly thought out signs.
5. The exciting stuff... Instead of attending a networking event and presenting with a bland roller banner, stand out with an impressive fabric banner with a branded deck chair alongside. There are also incredibly cool fabric exhibition stands and POS items available to draw prospects in to utilise local trade shows.
6. Products to keep clients. We all know that selling to an existing client is easier than selling to a new prospect, so do all you can to keep in touch with your client base. This can be by sending thank you letters and direct mail campaigns to your client list, as we have already mentioned. Then you can use the gift marketing strategy: send branded gifts such as wine or champagne bottles, branded Christmas cards, branded scratch card advent calendars, personal vouchers, and so on.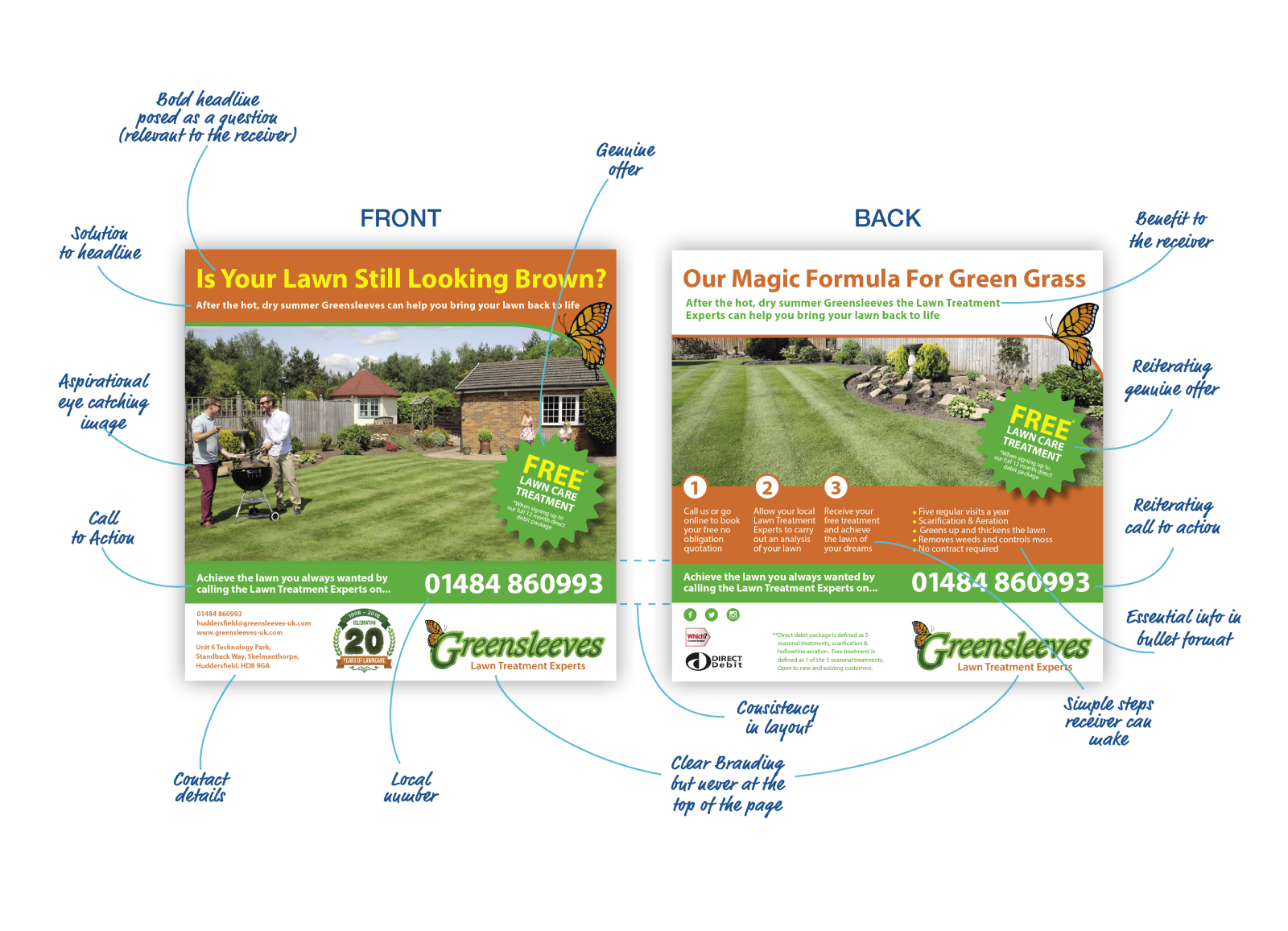 Artwork for Print
At Mr Flyer, we provide a full graphic design service, fulfilled by our in-house team. Once upon a time, they exclusively designed artwork for flyers. The benefit of this is that we know precisely how to craft an effective flyer. Still, the downside was that it became somewhat monotomous for our designers! Thankfully, thanks to The Personal Print Portal, in particular, we can now provide artwork for all printed and even non printed items (social media images for example).
Here are some top tips when creating artwork for print:
Maintain brand consistency. When you look at major brands, their artwork, be it digital or printed, is coherent, consistent and familiar. We recommend asking us to create a Brand Guidelines document to profess professionalism, ensuring brand consistency is upheld.
Consider your target audience. The colours, typography, format, size and finish should be tailored according to your ideal audience.
Make it actionable. Any printed marketing material should be actionable. A call to action (CTA) should be on every mailer. Remember to position CTA's to benefit the prospect first, not you! A good copywriter is often beneficial here.
Use the appropriate software. Most print is best designed on Adobe InDesign. Using other software can result in print issues.
Proof and then proof again! We always recommend asking someone who hasn't been involved in the artwork to proof for you. A fresh eye often spots simple errors.
Get started
Environmentally Friendly Printing
Environmentally friendly printing is a fast-growing industry. With so many of us ever more concerned with our purchasing decisions' impact on our environment, environmentally friendly printing can give you and your customers peace of mind. As an ISO 14001 accredited company, we set in place both internal processes and procurement procedures to ensure we are operating to minimise our environmental impact.
There are many specific products available such as recycled paper and the use of vegetable ink, that enable your business to enhance its eco-credentials. If this is important to you and your business, please state this at the point of inquiry. We can look to create an environmentally friendly print portal product range.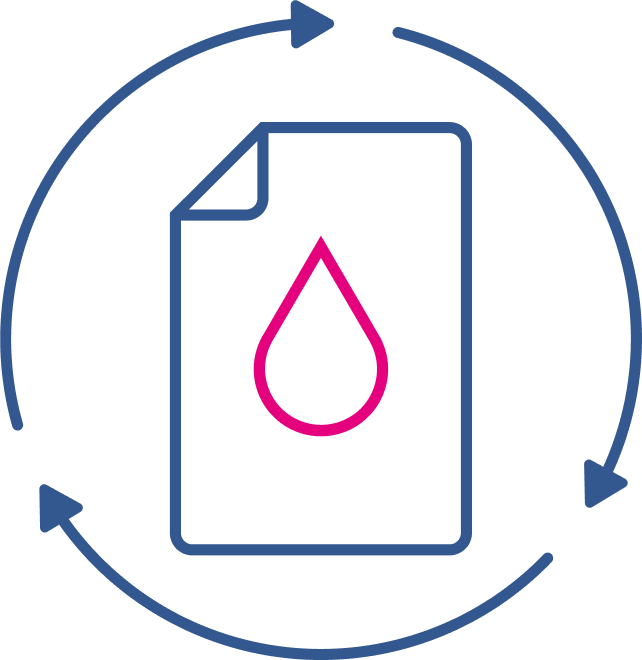 What's next?
Hopefully, this page dedicated to print has helped you establish how to build your business through effective print. The Personal Print Portal will save you time and money and make the whole process so much simpler and more personal for you. So please do enquire today and request your own branded print portal.
Request your very own FREE Portal Today
Accreditations
Mr Flyer is a multi-award-winning company. We are ISO9001, ISO14001 and ISO27001 compliant. In addition, we are an accredited member of the DMA (Data & Marketing Association), JICMAIL and the IPIA (Independent Print Industries Association).
Customer Reviews
Mr Flyer is trusted by some of the UK's smartest businesses. Why not join our continually expanding number of customers seeing a strong ROI with us.