Have you ever wondered if there are specific print marketing strategies for the home improvement sector? Is there the 'right' leaflet size, style, finish and design? Are there ways to reach people who will really benefit from your product or service, and are willing to pay for it? The answer to all of these questions is yes! For nearly a decade, Mr Flyer has helped dozens of businesses just like yours to dramatically increase their business, so we have compiled our most effective strategies into this dedicated blog for you.
Print marketing in a nutshell?
Print marketing is essentially everything from the design and print of brochures inside your you hand out to prospects, the sales process, up-selling, showing appreciation to existing customers, POS and much more. There's a two-pronged approach we use for the home improvement sector, a combo of door to door distribution and direct mail. With both, Mr Flyer starts from inception (planning and targeting), through to execution (print and delivery).
The two-pronged approach
The two-pronged approach is two different methods for two different target audiences. Depending on your business, the next few lines may make it clear that you only need to focus on one strategy. In some home improvement businesses, the revenue is a combination of sales to the general public, and to the trade. A building materials supplier for instance, will typically want to attract both public and trade. Yet, as with the Greensleeves example below, you will likely only want to target the public. The first strategy I'm sure you will be aware of is door to door flyer distribution, which is ideal for attracting residents. However, as it would be pot luck for your flyer to land in a trade persons home, we need something more 'direct'. Therefore, direct mail is what we use to the trade. To clarify, door to door distribution literally is where your flyer is delivered door to door, whereas direct mail is posted to specific addresses, which fit a set target demographic (in this case, tradespeople within X miles of your locality). We would discuss with you which is most appropriate for your business and plan your campaign accordingly.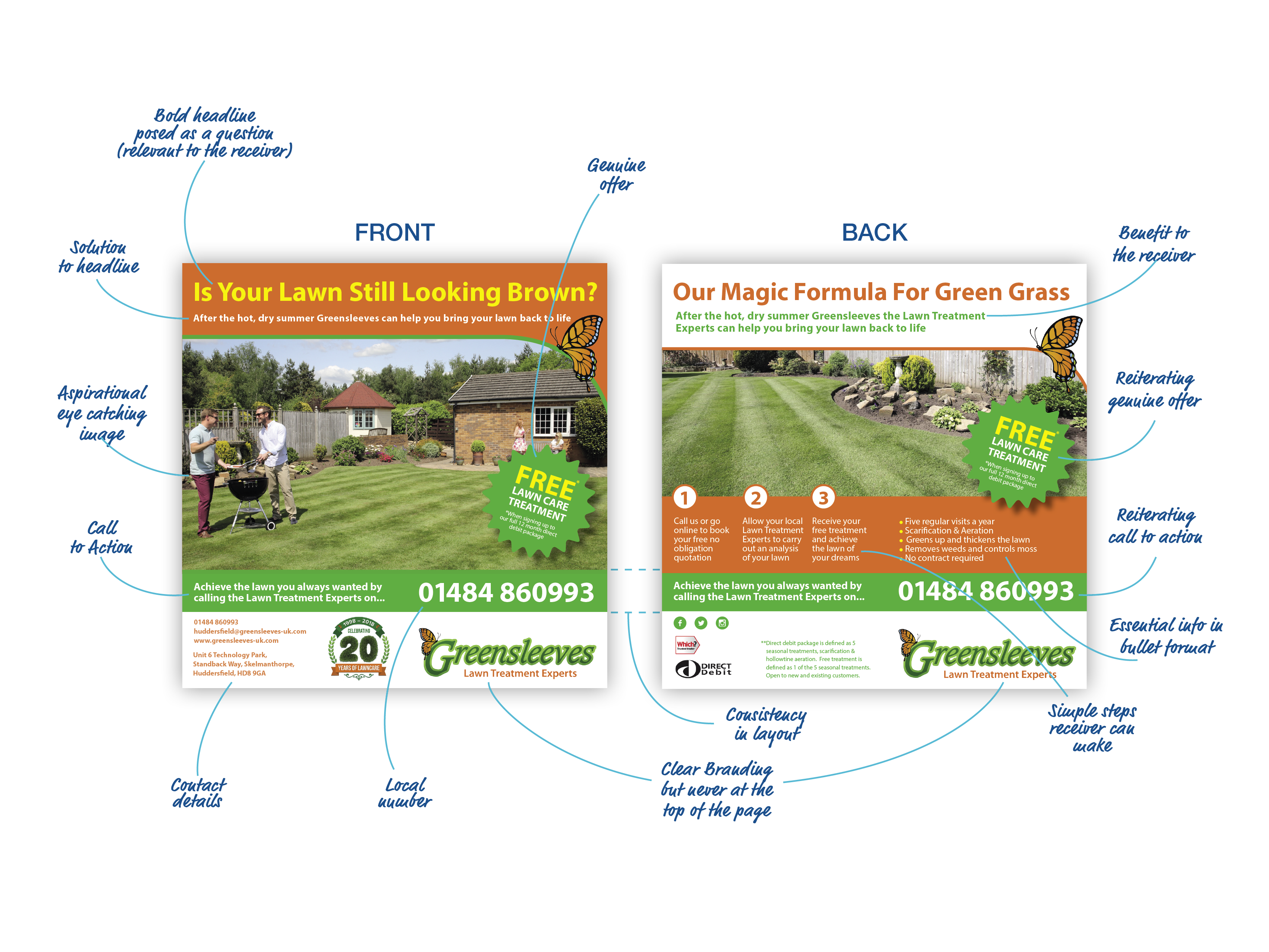 Should it include an offer?
When your spouse gives you your birthday present, you appreciate it despite knowing they were obliged to give it! Yet when you receive a gift out of the blue, you appreciate it so much more, right? This is the same with marketing, especially in the home improvement sector. When you give a gift as part of your flyer campaign (ideally one with no/little cost to you), it will have a profound effect on your response rate, and enable you to track your responses. This is known simply as 'gift marketing'. If you can't think of an appropriate gift, then either speak with us or provide an incentive through a genuine offer (as on the example below).
Implementing the strategy
As you will know, delivering flyers alerts the receiver to your product(s)/service, and entices the receiver to promptly respond. It is the gift which acts as the catalyst, or call to action (CTA). The ideal gift would be on a case by case basis, as it's typically most effective when relevant to your business, or your sector, so make sure to ask one of our consultants for their advice on this. Here's a few reasons why the gift works so well:
People loves gifts and receiving things for free
There's no commitment needed from them to make a purchase, so no barrier
Upon receiving the gift they are more likely to now make a purchase
It's not cost your business much/anything to provide the gift
An expiry date can encourage a prompt response
It's a GDPR compliant way to acquire their data (Free gift subject to them providing their name and email)
You can track response rate based on the amount of flyers received
The design itself
The design of your flyer or promotional item largely dictates your response. Take a look at the example above, and all that is included to ensure success. In a nutshell, the three keys to a successful flyer are:
A bold headline. This is posed as a question, relevant to your target audience.
An eye catching image. Not the outside of your store, or your vehicles (it's likely not going to inspire them), instead sell the benefit.
A call to action.
The need to repeat
In the same way that knocking down a wall often takes more than one swing, acquiring new customers often takes more than one hit too. Just like any other marketing, you must repeat to the same targeted audience, this is known as drip effect marketing. People are much more likely to respond to your flyer when they regularly receive it, so repeat to the same audience every 4-8 weeks, and do so at least 3 times.
What's next?
If you would like to build your business and your brand through our tried and tested print marketing strategies, please do get in touch with us today.