Mr Flyer is a partner with the UK's biggest print brand, printing.com.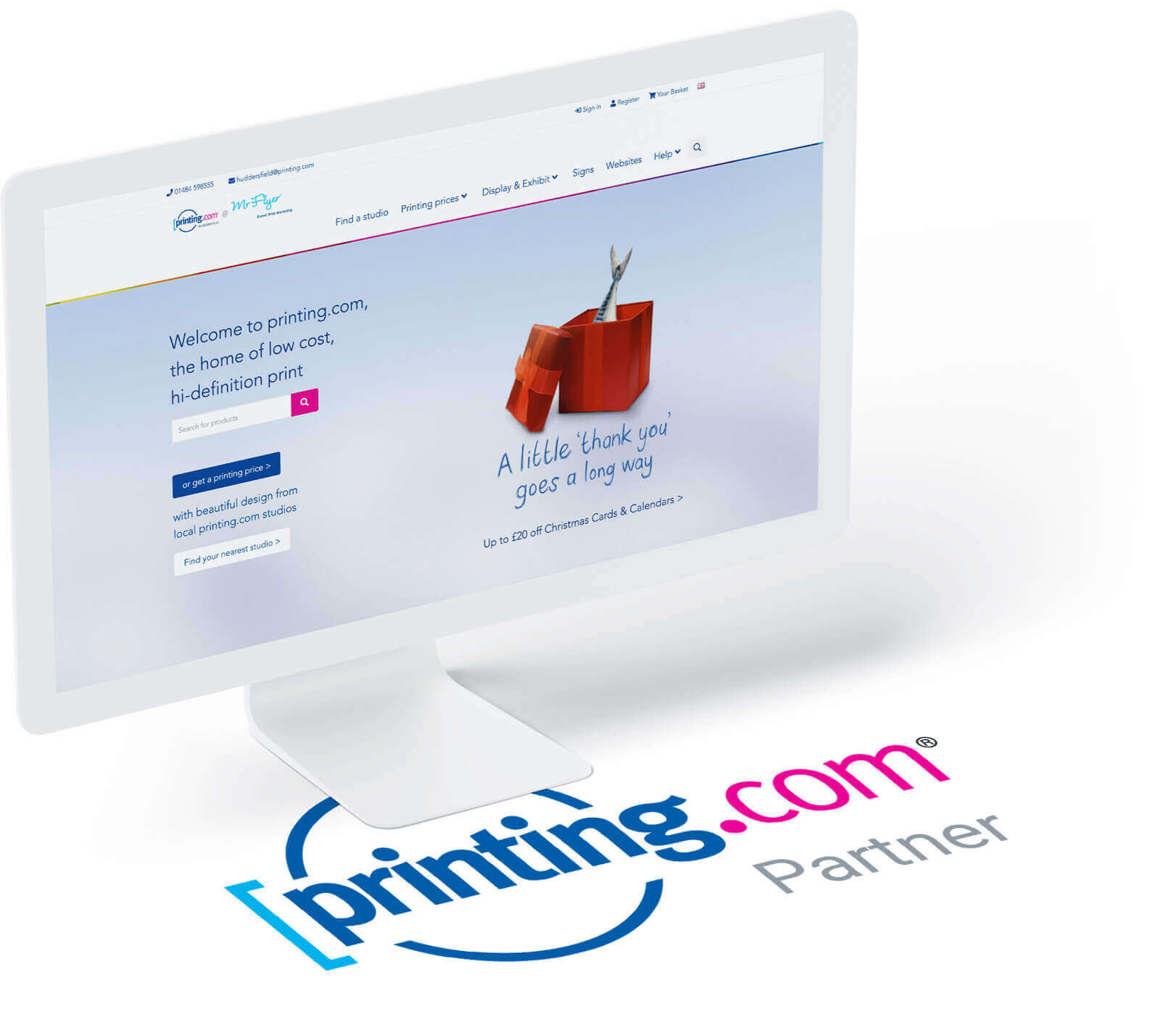 Our partnership with Printing.com enables us to provide you with, not just a huge array of flyer print products, but every other print item you can imagine!  This can range from business cards to fabric banner stands, from booklets to calendars, from signage to posters, and everything in between.
You can see the 1,000's of products we sell at our e-commerce print site.
Business Cards, Business Stationery, Printed
Envelopes

Leaflets, Postcards, Folders, Flyers, Menus &
Showcards, Credit Cards

A4 Booklets, A5 Booklets, A5 Folded Leaflets, A4
Folded Leaflets, A3 Folded Leaflets

Exhibition Displays, Flags & Outdoor Displays,
Posters, Canvas Prints
View our products
Did you know?
We provide a 10% discount on ALL our printing.com products to our clients whom we provide distribution campaigns for!
Take a look on our printing.com website now, or get in touch and let us know what you're hoping to achieve, and we can recommend the most appropriate print for your business.
What our customers say
" After asking Mr Flyer to look over my stationary needs, Mr Flyer promptly arranged a meeting to go over my requirements. They understood my passion for getting things right and made it clear it was no trouble to make any changes. I was very happy with the end result and would have no hesitation at all in recommending Mr Flyer to anyone who requires printing work or leaflet distribution. "
Mick Leech, Parkside Garage
" Mr Flyer provide an outstanding and extremely well-tailored service, giving helpful and honest advice from the offset. From a repeat distribution Mr Flyer have recently carried out for us, we have already sold 6 cars, what a fantastic result! We are extremely happy with the professional service provided by Mr Flyer and look forward to working with them in the future. "
Neil Lawley, Perrys Mazda
" We regularly use Mr Flyer to distribute up to 15,000 flyers at a time for our membership campaigns. Mr Flyer offer a cost effective and reliable service and are more than capable of dealing with our often short notice requests, the guys are also able to offer expert local knowledge when looking at which areas to target. Happy to recommend. "
Karl Howarth, Kirklees Active Leisure
Plan. Execute. Repeat
Our cyclical process allows us to test, tweak and refine your print marketing efforts to ensure you gain maximum results


We take you through the process from the initial consultation, establishing the right audience, creating actionable artwork, printing on the most appropriate paper and then delivering either door to door or via direct mail.
We provide a full print marketing service that covers everything from strategy, design, print as well as targeted door to door distribution and direct mail.
Ready to get started?
Lets get your print marketing out there to your potential customers
Request a callback
Customer Reviews
Mr Flyer is trusted by some of the UK's smartest businesses. Why not join our continually expanding number of customers seeing a strong ROI with us.