Lawn3 embraced our complete package of demographic targeting, flyer design, unique print and leaflet distribution. Discover how targeting homes with large gardens produced a 300% ROI.
The Client: Lawn3 are a lawn treatment specialist operating out of Leeds and Bradford in West Yorkshire. Their tagline is 'advanced lawn care', and they certainly know what they are talking about. They have a technical programme of 6 stages of treatment to help lawns look their best. They have a strong brand image and accreditation with the IOG (Institute of Groundmanship). Owned by Nik Wainwright, Lawn3 are a long-standing client of ours, having used us multiple times over the last five years.
The Targeting: Each year, Nik runs an early spring-time leaflet distribution campaign to local areas, hoping to maximise his busiest period. This annual drip effect strategy targets potential customers at the time of year when it would be most beneficial to start using Lawn3's services. In previous years, Mr Flyer has helped identify Nik's most desirable areas to send his flyers. We have searched out locations with the highest house values and the highest concentration of homeowners using an Experian demographic check. Doing so enabled us to produce a list of postcode sectors with residents who are more likely to have gardens and are more likely to be decision-makers of their property maintenance.
The Flyer Design: This year's approach was in keeping with 2020's - targeting the same areas and using the same flyer design (with a minor text amendment). The flyer Nik uses is a 148mm Square Card on 250gsm silk - a design that stands out from the commonplace A5 130gsm flyers that most companies use.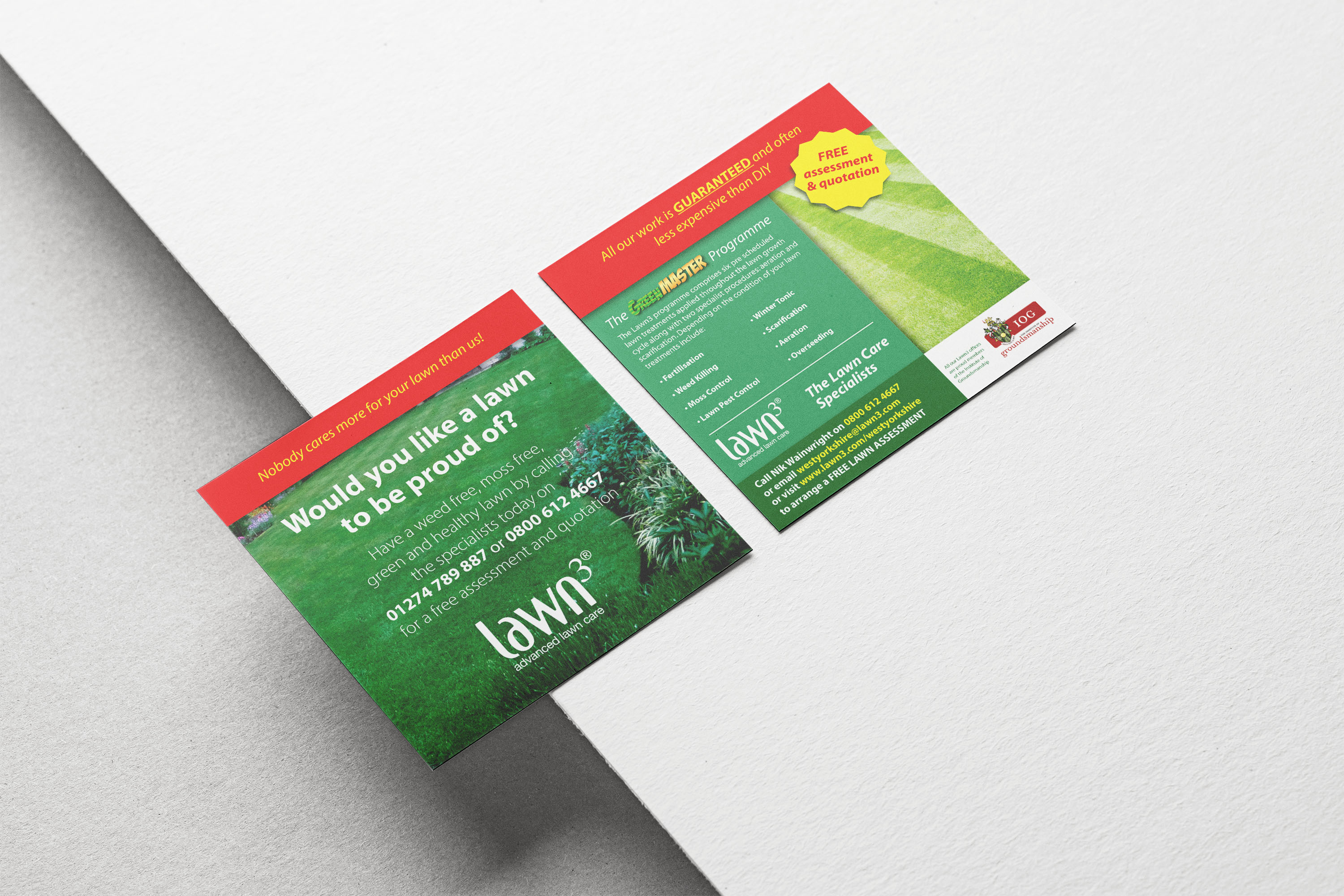 The Process: As Nik was used to working with us, the process was swift and straightforward for both parties. He already knew the locations he wanted, and we followed the same booking process as last year. Our designer, Rodger, made the flyer changes requested. We then got them printed and handed over to the Royal Mail in time for the flyers to go out over two weeks in March.
The Result: Whilst it doesn't always happen, Nik started receiving enquiries from day 1. The responses continued to come in over the two weeks, and Nik was happy with the campaign's progression. The result? Nik received over 30 new customers and a 3x return on his marketing investment with us. As you can imagine, he was very pleased with this and will be using us again for next year's campaign.
The Client's Feedback: "I used Royal Mail D2D service for my first leaflet campaign, and having been disappointed with the response rate, I decided to look at independent providers, and met with the team at Mr Flyer who gave great advice of a new leaflet design/print, and more importantly they gave their suggested postcode targeting for my campaign...The response rate was double that of the Royal Mail distribution, and conversion in income from the leafletting campaign was over 300% of the cost of the print and distribution. I shall definitely be using Mr Flyer again for this years campaign and would strongly recommend anyone to meet with Andrew and Michael to understand how the leaflet distribution can and will benefit any new users."