This case study demonstrates how Next utilised our print & leaflet distribution service not to bring in more customers but to transform their seasonal recruiting strategy.
The Client: As one of the UK's leading clothing and homeware retailers, Next are a household name. They have two warehouses in Yorkshire and employ hundreds of staff to help process delivery orders to stores and customers.
The Targeting: They first contacted us in 2017 to help with temporary staff recruitment for their busy Christmas period. They wanted a leaflet distribution campaign to reach the local area and surrounding smaller villages. They repeated this the following year. This was prior to our partnership with the Royal Mail, so our competent flyer distributor team completed both campaigns as a solus campaign. In October 2020, Eve got in touch to book another distribution, this time to be done through the Royal Mail. We talked her through the process, consulted with her on which postcode sectors to target and produced a map to confirm she was happy with the areas.
The Flyer Design: The flyer design was simple, clear and made the application process very easy. Respondents needed only to text the word APPLY to a 5-digit number set up expressly for the campaign. There was a separate design for each warehouse, and each warehouse had a distribution of 12,500 flyers to their local area.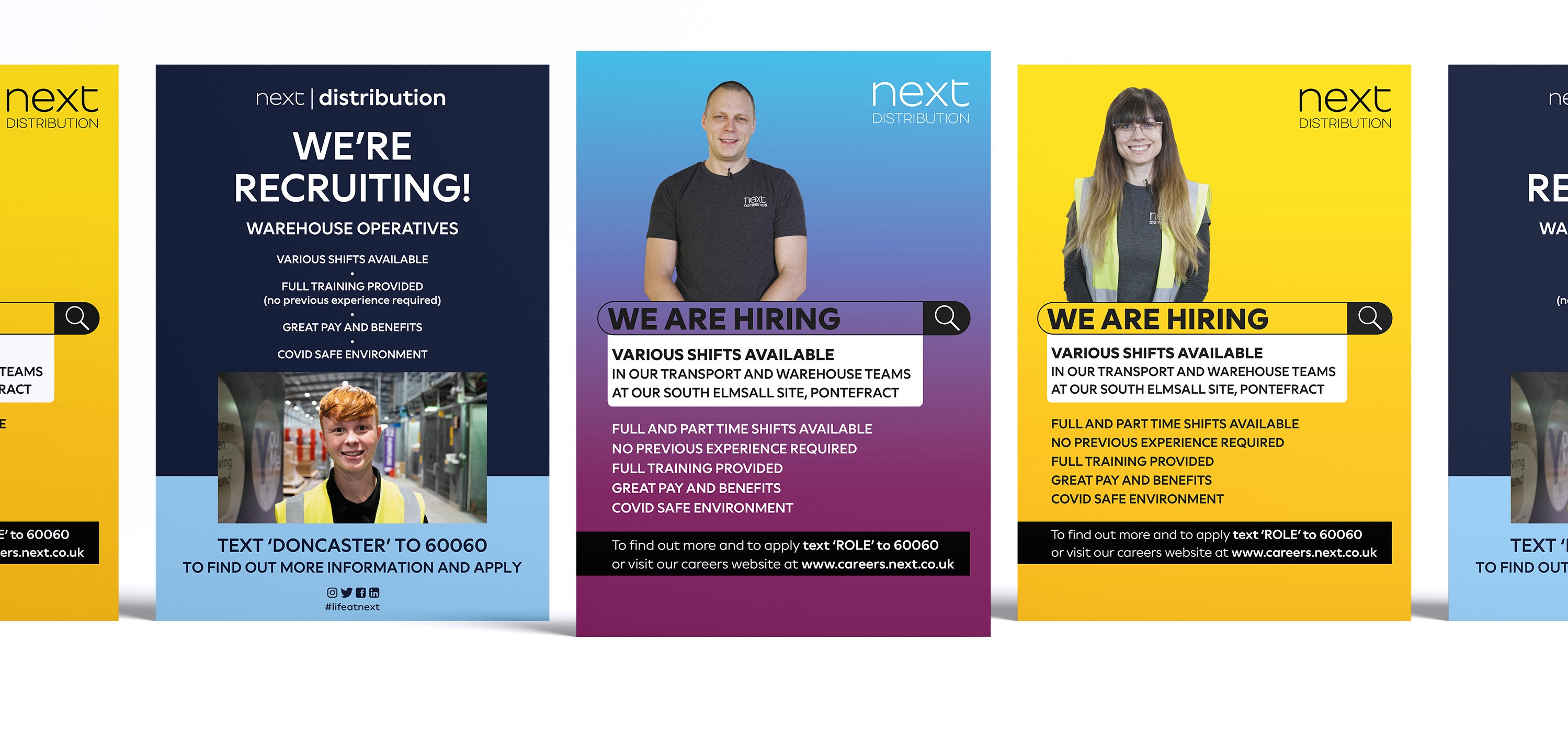 The Results: The results were phenomenal! Over the years, we've worked on several recruitment campaigns - predominantly for homecare businesses. These have had varying levels of success. However, Next's campaign went to an entirely new level. From a little over 25,000 flyers, Next received over 450 texts! As a result, Next ran a second campaign in December and then two other campaigns in the early half of 2021 (organised through Eve's predecessor Claire), with more on the way.
How we Achieved this: When asked about the success of their campaign, our response is always the same. Whilst the distribution method cannot be understated (i.e. delivery by the Royal Mail), three success factors include the targeting, the design and drip effect marketing. We specifically targeted locations close to each depot, which matched the demographic who would likely be attracted to seasonal fulfilment based work. The design was fit for purpose and required minimal effort to prompt a response. Flyers that need multiple steps to respond will see less success because people live busy lives. The easier you can make it for a person to engage with your brand, the stronger the response you will see. The final and most critical key is drip effect marketing. This is where we repeat flyers to the same people frequently. Repetition builds awareness, followed by trust, which creates engagement.
We look forward to continuing to help Next and building on our great relationship with them.
The Client's Feedback: "Jacob was really helpful and professional throughout the process! We wanted flyers to be distributed under a tight timeframe and he went above and beyond to make sure this happened. So far we are getting some really good results from the Flyers so thanks so much! :)" Eve - Next Plc