SIMPLY LOOKING FOR ROYAL MAIL DOOR TO DOOR DISTRIBUTION? If you're simply looking to find out about the Royal Mail distribution service and to book a leaflet distribution, please CLICK HERE, otherwise read on...
This is probably the most revealing and fascinating research blog I have written so far. The way the Royal Mail operates is quite unbelievable; read on to see why.
All too often we get calls where a potential new client questions if we are 'cheaper' than the Royal Mail, and why they should use us instead of going to them directly. I have written this so you can see the differences between the Royal Mail and Mr Flyer, and choose for yourself which is best for your business.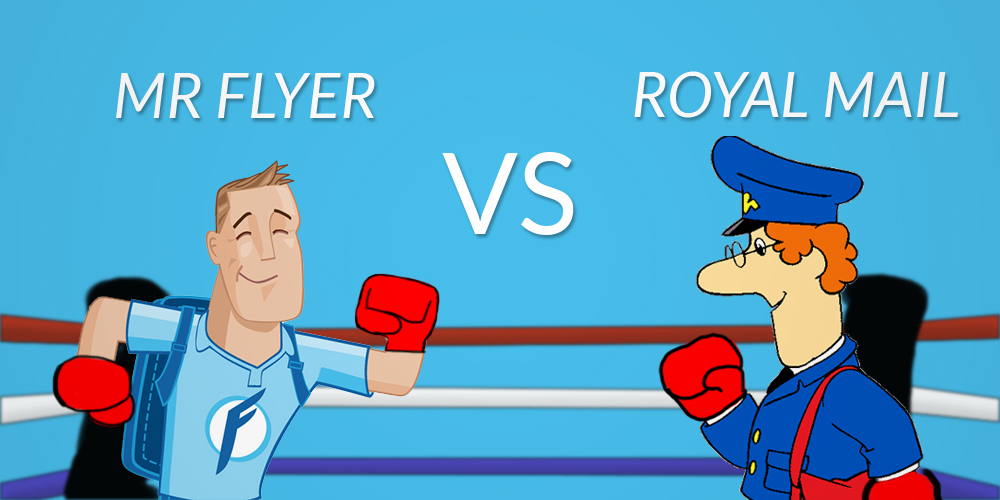 The information on the Royal Mail is accumulated from studying their website, reading their terms and conditions, reading all their special reports on door-to-door distribution and having long conversations with their door to door call centre regarding the distribution. Please note, this blog was originally written July 2015 and updated November 2017, and again in January 2020 so that it remains relevant for you.
Round 1: The Distribution Itself
Both the Royal Mail and Mr Flyer now only offer a shared distribution. This is where your flyer will go out with other flyers to the same addresses. As you will read more on below, Mr Flyer became a partner with the Royal Mail in 2018, and from summer 2019 now use them exclusively. Therefore, the advantage here (over a lot of other distribution companies) is that people are more likely to look at your flyer because it will be amongst mail, which the receiver must look at. With both businesses, your flyer goes out with up to 4 other non-competing flyers and the mail. This is dependent on what is booked in at the time - in some cases your flyer will be delivered on its own (Solus distribution). Equally, both of us provide distributions as a nationwide service.
So what are the differences between Royal Mail and Mr Flyer:
Royal Mail: When going direct, you have to first register as a new client with Royal Mail, complete application forms, fill out booking forms, wait on communication back and forth with Royal Mail about what category to put you in for distribution. Then you have stringent deadlines to meet for getting the print to Royal Mail (some clients we have spoken to were told Royal Mail needed the materials one month in advance).
Mr Flyer: As an affiliate with the Royal Mail, we do all of this for you. Our operations are set up efficiently so that we fill out all your forms, design and print your flyers (or other printed marketing material), and as an affiliate, we have up until 2 weeks prior to the distribution to get your flyers to the Royal Mail - so your flyer can go out much sooner. All in all a much smoother and more efficient process - and at no extra cost!
When this blog was first written, we offered 3 distribution services (solus, duo and shared). Due to minimum wage requirements and the difficulty of distributing in certain locations, charging anything less than £100 per 1000 wasn't sustainable. Now we use the Royal Mail for our door to door distribution services, which is a shared distribution (we do however also provide direct mail).
Royal Mail: The most you will pay per 1,000 is £69.99 (+ vat), and this decreases significantly based on quantity. These prices are all based on printed items weighing less than 20g each. Heavier items do cost more per 1000.
Mr Flyer: We charge the same standard rates as going to the Royal Mail directly. The minimum order is the equivalent of 7,500 flyers, and we build in the additional service of the design, print and preparation of the flyers. These must then be packaged and labelled to stringent requirements and couriered to the appropriate Royal Mail distribution centre (WBC), which is again part of our service.
The design of your flyer is a vital component to the success of your entire campaign, if it looks nice, but is not actionable, you're probably not going to see any return on your investment (ROI).
Royal Mail: They don't offer it directly; they recommend a company called Romec. They gave me a number to call. When I spoke with them, they couldn't quote me over the phone. I had to send an email and wait up to 48 hours. I did receive it on the same day, but was shocked by the price – read the print part in Round 4.
Mr Flyer: We have an experienced in-house graphic design team to help you with the design of the flyer or other printed item (brochure, etc.). We build this value into our combined marketing service for you. Of course, we will ensure it aligns with your existing branding, features the key offers, products or services you are looking to promote, and we can even offer advice on some of the copy (effective headlines, proven call to actions, and so on).
Not only is the price important here, but advice on which paper to use depending on your type of business is essential.
Royal Mail: Once again, this is outsourced to Romec, and I had the same long wait for a quote applies. I asked for a quote for design and print of 20,000 A5 double-sided flyers on 130gsm gloss, and it came back at £607.06 including design (bearing in mind this was 5 years ago, I expect with inflation and paper cost increases, this is now even higher).
Mr Flyer: With our print, we can help recommend the right paper based on budget and type of business. As mentioned previously, we build the print cost into the overall marketing service for you. In addition, our turnaround time is very fast, meaning your flyers can go out much sooner.
Round 5: Proof, such as GPS tracking
This is a question most new prospects ask, 'how do I know they will actually get delivered?'
Royal Mail: Don't offer any form of tracking. As you can imagine, however, most flyers are delivered along with mail, and to dispose of mail is a serious criminal offence, so the likelihood of the flyers been disposed of is much lower than your typical distribution company using 'self-employed' people on illegal pay. The Royal Mail has excellent employee loyalty and pride, so generally speaking, your flyers are in very safe hands.
Mr Flyer: We no longer provide GPS tracking with every distribution campaign as we now use the Royal Mail. However, where there is a very rare issue, we investigate this fully on your behalf and ensure a fair resolution is made.
Round 6: Ease of booking/campaign consultation
You are busy building your business and simply want to hand the stress and organisation over to the experts, right?
Royal Mail: Once you decipher their 'Area Ranking Report' you have to figure out how you want to proceed, then you fill in their arduous booking form, then eventually you have to adhere to their 11-point instructions as per section 4 of their terms, otherwise you risk your flyers not been delivered at all; this includes you getting your flyers to them. However, once you are set up, things are relatively easier. One thing, which most printers will struggle with, is the requirement to have your flyers boxed weighing no more than 10kg – which is a very small box!
Mr Flyer: With a 3-minute call, or quick email you can be booked with us. We ask a few questions so we can establish things like target audience, quantity, thoughts on your flyer design and print, ideal dates, etc. From this we plan your distribution for you, hassle-free.
Royal Mail: They massively have the upper hand here on any other distribution company in the sense that they are completely national, covering every postcode sector you can think of. Not only that, the Royal Mail have the logistical expertise to reach those farmhouses with a 2-mile long private driveway! They also often have special access to apartment blocks, which often eluded your typical distributors. Logistically, the Royal Mail is quite unbelievable – hats off to them!
Mr Flyer: When I first wrote this blog, we were restricted to West Yorkshire only - now thanks to our partnership with Royal Mail, we are nationwide.
If you are a high-end bespoke tailor, it would 'be fitting' to target affluent areas. Let's see if both companies can do this for you:
Royal Mail: The Royal Mail use the sophisticated Mosaic software, provided by Experian, to assist with targeting down to a postcode sector level (to go beyond this you need Direct or Partially Addressed Mail). This is very helpful if you're not sure where your target audience lives, and can make a national campaign a straightforward planning process.
Mr Flyer: We too use the same Mosaic software used by the Royal Mail. However, the software is only useful if you know how best to utilise it. We can help you establish the most appropriate demographic criteria to be checking, the locations and how to interpret the reports. For example, a lot of clients have come to us before, with a small marketing budget, asking for a "5-mile radius" of their location. Whilst this is logical, as they may have existing customers travelling 5 miles or more to use them, a 5-mile radius will typically cover in the region of over 70,000 households, which a small budget is not likely to cover. We can offer advice on what would be best for your business in terms of narrowing this down to reach those people where they are most likely to respond.
I know when I'm looking to use a business I look at their client feedback through testimonials and star ratings on various websites. Let's see how they compare here:
Royal Mail: 1.1* reviews on Trustpilot. (Note: this is for Royal Mail as a whole, not just door to door). Here is a snippet I found on a forum regarding Royal Mail's door to door service: "I've done Royal Mail door drops…They are just swines - they question everything from the size of the bundles of your flyers to what colours you use and how they are stacked on the pallets. You can never actually speak to anyone. You spend ages trying to chase people down by phone to get a definitive answer, and then they insist you were given the wrong information from their own website..." As stated above, the poor star rating is not based on door to door specifically, but the company as a whole. Most seem to be about lost parcels or disappointing customer service by individuals.
Mr Flyer: Take a look at this link to see we always get 5* ratings on Reviews.co.uk. A recent testimonial we received was from Perrys Mazda in Huddersfield: "Mr Flyer provides an outstanding and extremely well-tailored service, giving helpful and honest advice from the offset. From a repeat distribution Mr Flyer have recently carried out for us, we have already sold 6 cars, what a fantastic result! We are extremely happy with the professional service provided by Mr Flyer and look forward to working with them in the future."
When I wrote this blog initially back in 2015, I biasedly heralded Mr Flyer as 'winners' based on our own door to door services. However, since then I had kept the Royal Mail in the back of mind, captivated by their incredible logistical ability to deliver to every single address in the UK. There was a time when I wanted to see Mr Flyer being able to fulfil this too with flyers. Unfortunately, with the government continually loading small businesses with more and more challenges, such as minimum wage increases, pensions, NI, legal restraints and so on, we reluctantly acknowledged it is not financially viable using our own distributors – certainly not at a good price point for our customers.
But we certainly didn't want to stop helping our customers grow both locally and nationally, and we did want to utilise our 9 years of print marketing experience, to see our customers thrive. As such, we decided to create a strategic alliance with the Royal Mail, so that we can provide you with our same expertise, on a national scale.We remove all the hassle and plan your campaign for you, without you paying a penny more than you would if you went to the Royal Mail direct.
Mr Flyer's goal is simply to help build your business and build your brand. If you would like to organise a hassle-free and cost-effective door-to-door distribution campaign to build your business then please contact us today.