Hopefully, you are already aware of our exciting merger with one of the Uk's leading direct mail companies, Flow Solutions. The deal closed just days before lockdown, and we have been avidly working since then to integrate our team with Flows'. We are now able to offer you, our valued customers, direct mail, in-house print, hand assembly and packaging, pick & pack and contract packing, and very soon, hybrid mail.
This blog will give you a brief introduction to Flow Solutions, and cover how your business will benefit using leaflet distribution alongside Flow Solutions primary service, direct mail.
So, who are Flow Solutions?
Flow Solutions was born in July 2008, with one simple goal: to help businesses save money on their mailing and fulfilment, reduce their stress during big projects and ultimately increase their revenue and profits. After only a short time in business, they had shifted focus, becoming the "marketing fulfilment guys". They are a progressive company, and as such were seeking new market opportunities, with door to door distribution being top of the list. When a mutual business friend mentioned the idea of a merger, we met up, agreed to proceed that day, and a few weeks later, our merger was complete.

How does leaflet distribution differ from direct mail?
Direct mail (DM) is where we post your item to people or businesses on an individual basis using their address. The target audience is either people on a specific data list we purchase for you (for instance, MD's of businesses with a turnover of £1M+ within 2 miles of the LS postcode which have five or more employees) or to your existing customer list. Direct mail is most appropriate when you have a particular target audience (for instance, letting agents use this to target landlords). It is generally most suitable for business to business (B2B) marketing. Door to door (D2D) leaflet distribution is where we deliver your flyers on a postcode sector basis (such as all of HD2 4). D2D is for businesses wanting to reach a broader audience as cost-effectively as possible (for instance, estate agents targeting residents who may wish to sell their house). Door to door is still targeted, but not to the same extent as direct mail.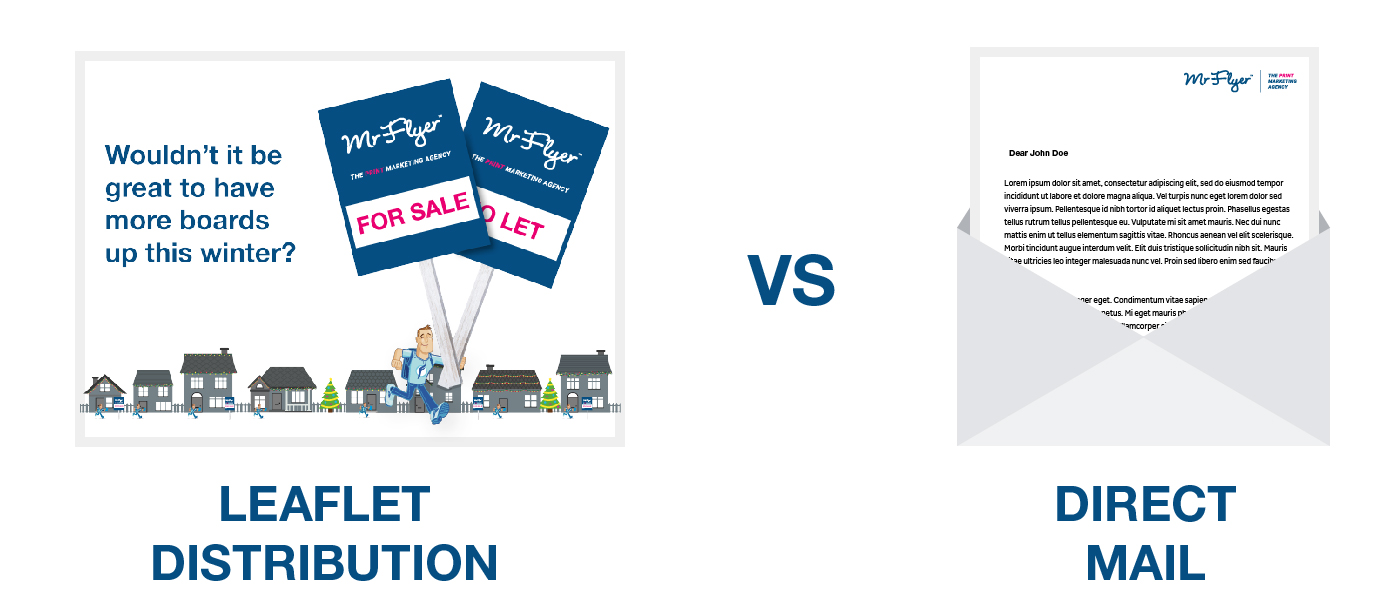 The benefits of using leaflet distribution alongside direct mail
We have already alluded to the benefits of using leaflet distribution alongside direct mail when explaining the differences above. We will stick with estate agents, as they form the perfect example of the marriage between the two services. In most estate agency businesses, the revenue is a combination of sales commission and rental commission. However, these, of course, derive from different sources - sales commission from vendors, and rental commission from landlords. Previously at Mr Flyer, we could only help you target potential vendors as leaflet distribution is perfect for this. Now, we can also help you target landlords, as direct mail is ideal for this.
Leaflet distribution or direct mail, which is better?
As the estate agency example above demonstrates, it is not a case of one service being 'better', but establishing which is most appropriate to achieve your desired outcome. Our experienced sales consultants can discuss with you what you are hoping to achieve, and recommend the most suitable solution for you, and then do all the work on your behalf (strategy, targeting, design, print, delivery, etc.).
Please do Contact Us today so we can help build your business and build your brand through expert leaflet distributions and now expert direct mail campaigns too.